Scottish Country Dancing
Scottish Country Dancing
SCOTTISH COUNTRY DANCING (SCD) or should I say social dancing the Scottish way, makes me smile and I believe that anything that makes me smile I should do as often as I can.  Why do so many people around the world enjoy it?  (Yes, around the world, UK, Japan, Ireland, France, Germany, Argentina, Portugal, USA, Canada and many more).  I can guess that many of them feel as I do.
SCD is the joy of moving to foot-tapping music.  It provides unabashed fun and friendship, exercise for both our body and brain, the learning of  new dances and formations heightens our love of dance.  It is the light and shade as we move to the music adjusting our steps to get there "on time", the euphoria of nailing it, not just as an individual but as part of a set (ie we dance in sets (3-4 couples in each set)), the feeling of moving as one with the music.  Oh there are so many delights.   We change partners almost every dance, so get to know others at the dance.  You do not need to bring a partner to SCD, just a smile will suffice.  However, if you have a partner who wants to dance too, that's great, two new friendly smiles.  We are a family – sometimes we see some each other only once a year at Winter School or Summer School.  Perhaps we live in the same area and see each other weekly or twice weekly for dance and a coffee catchup. We love to get together, and will drive 2 hours and sometimes more to attend a social, ball or weekend away.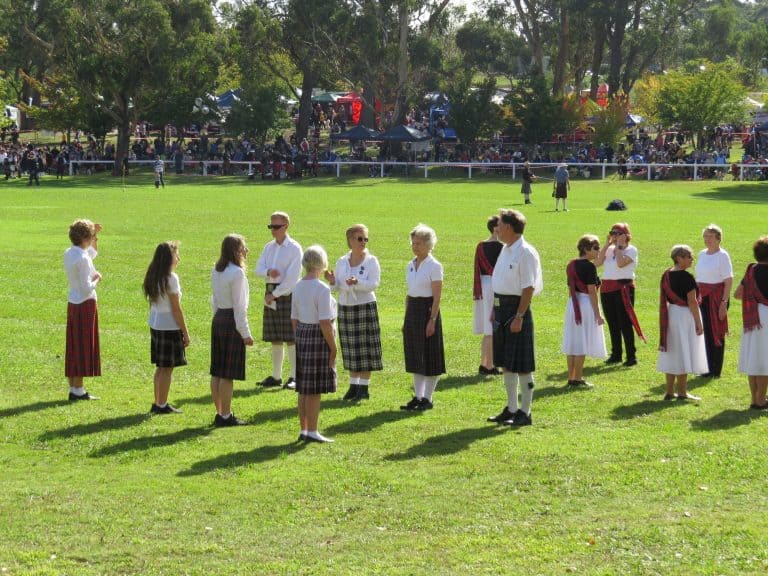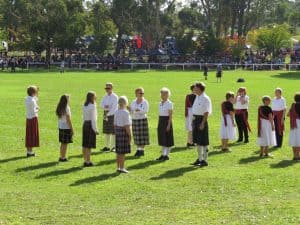 Covid has not stopped us.  Virtual classes, socials and balls have filled in the gaps though they are a poor substitute for the real thing, however they are better than nothing.  We are so looking forward to the return of dancing together and being able to travel outside Australia.  One year in the past we planned our holiday around Summer School of SCD in Canada, dancing in San Francisco and the UK.
The good thing is that SCD has an umbrella organization which trains teachers and as they all are trained the same way and the language of the dance is uniformly used, we can travel the world and be confident that if we go to a local group, we will understand their instructions.
SCD is a living tradition.  We do still dance some dances written centuries ago, but we also dance those which have been devised since then and up to the present day.  I am sure Covid will provide new dances too.  We have a large selection of dances to choose from for beginners through to experienced.
In the Highlands, The Southern Highlands Scottish Country Dancers meet on a Wednesday night at 7.30pm in Moss Vale.  Classes will resume in February 2022.
Our umbrella organization the Royal Scottish Country Dance Society (RSCDS) has many branches in Australia.  The website is www.rscds.org.au.  They also have a Facebook Page – Dance Down Under – there is a link on the site.
If you would like more information contact the above which will give details of the Southern Highlands group or you can ring me – Patricia Ashley 0414874152 or 024883757
Participation Dance – the ever popular – Dashing White Sergeant
Audience Participation Dance – always eagerly awaited – The Dashing White Sergeant – 4 times through.